As an avid backpacker for nearly 10 years I have acquired my fair share of hiking gear. However, I'm in the process of simplifying things right now and changing out some of my personal and guiding gear. I figured what better way to clear out items than to offer them up for sale to people who would appreciate gently used, well taken care of gear. Please check out all my offerings below. These pieces of gear I'm offering up would be great Christmas gifts for the beginning backpacker in your life!
Prices are set and are firm and shipping is included in the price (local pickup will not get a discount - sorry). This isn't a flea market - No negotiating. Gear is sold AS IS/ALL SALES FINAL and descriptions of any imperfections are included in the item description. Payment is accepted through Paypal or by cash/check if you're local. Local pickup in Knoxville, TN area only. Shipping is to the US and US territories only. Shipping will be first class US mail with a tracking number provided (priority available - please ask for pricing to your zip code!).
*SOLD*MSR Pocket Rocket (original) Stove - $10 (fuel can not included)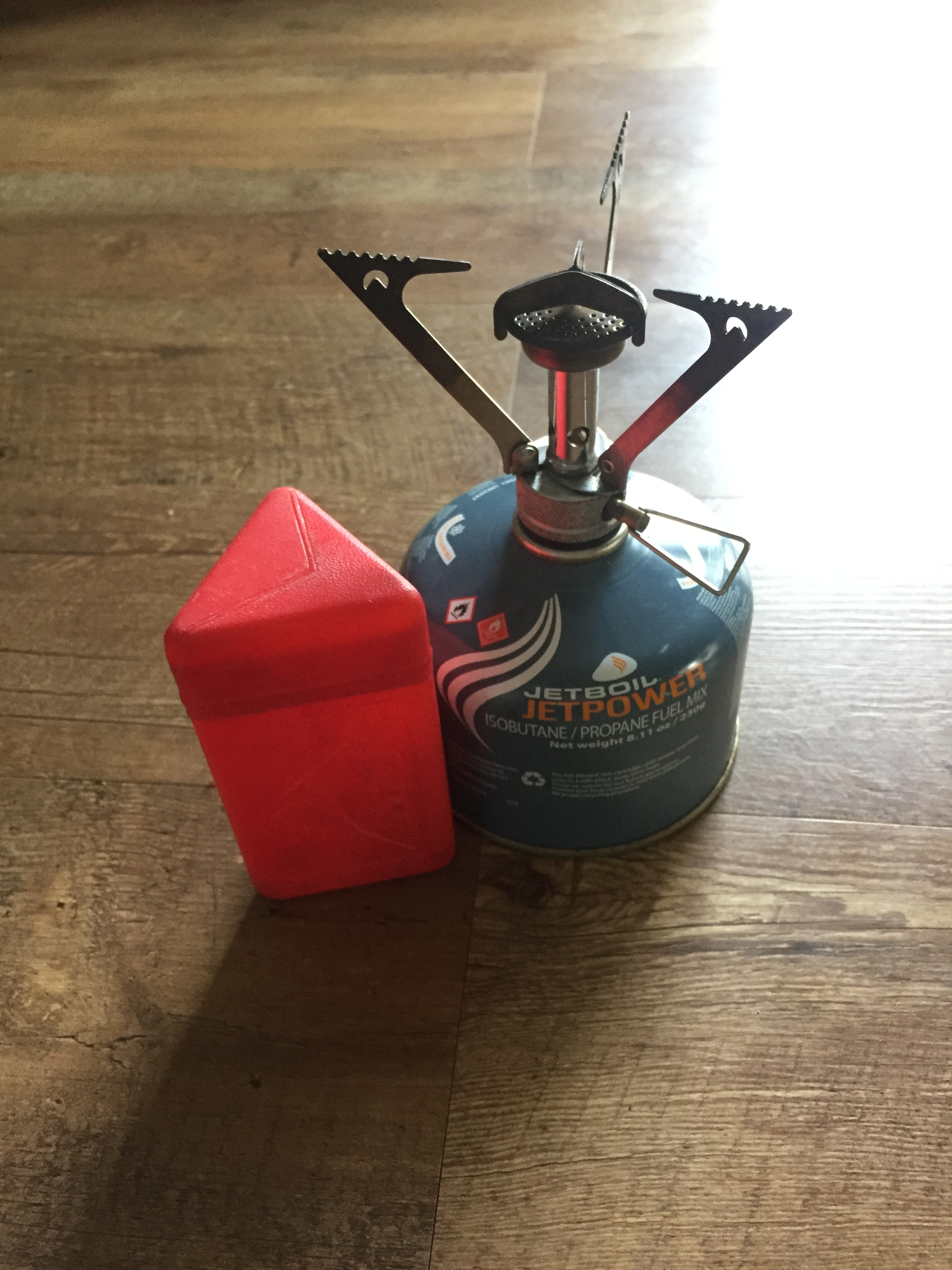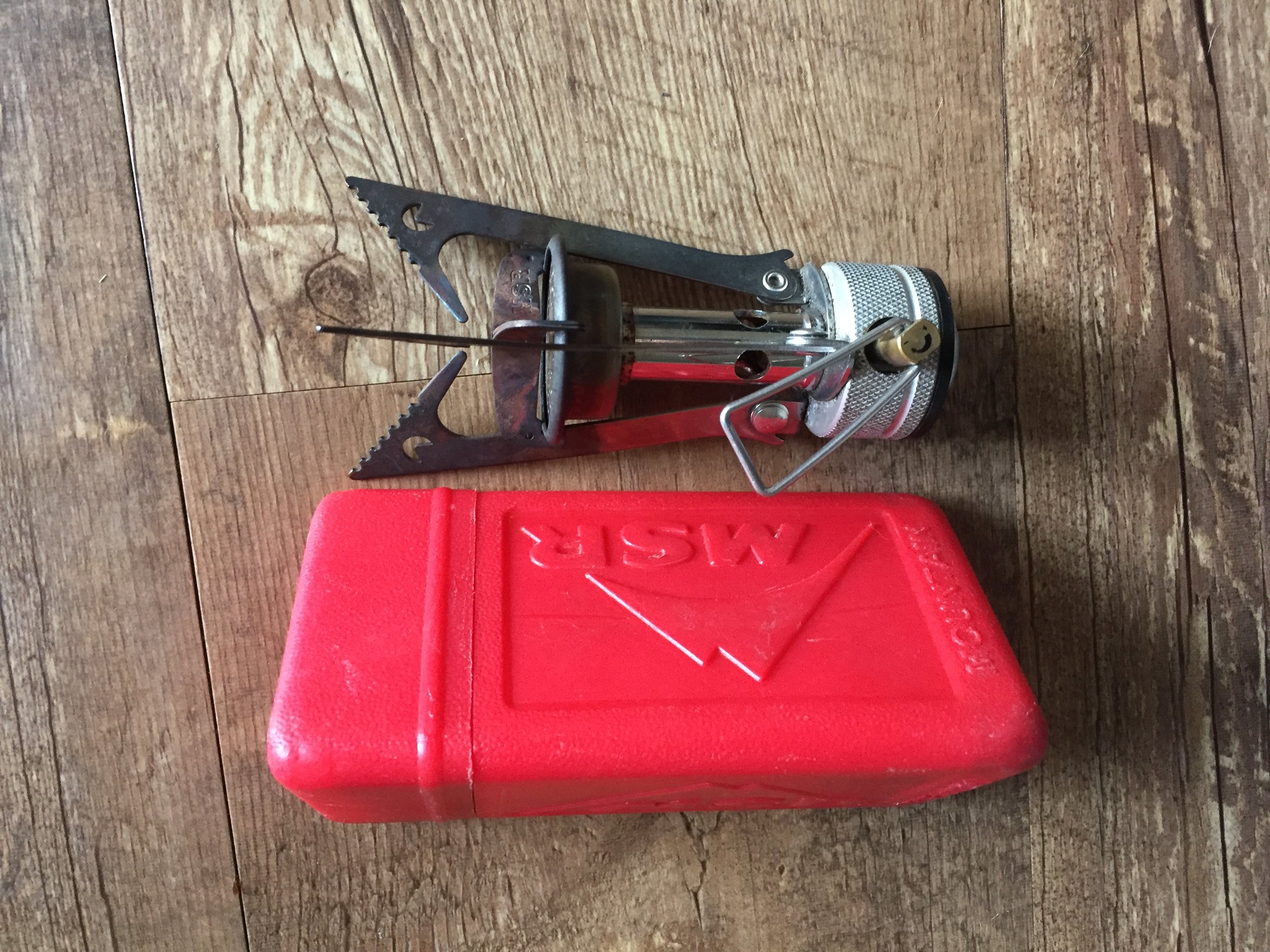 Click on the photos to scroll through them.
I used this stove for several years and am upgrading to another version instead. You'll notice some slight discoloration at the top tips of the pot stands. Works beautifully and I've never had any problems with any canister fuel I've tried, including: SnowPeak, JetBoil, MSR, Coleman, and any other cheapie you find at a resupply spot. Specs from the manufacturer:
Weighs just 3 oz. (85 g), with palm-sized dimensions
No need for priming, pressurizing, or maintenance.
Boils 1 liter of water in under 3.5 minutes.
Glove-friendly controls allow precise flame adjustment, from a simmer to a boil.
Tri-sectional Windclip wind shield protects flame and boosts efficiency.
*SOLD*Sierra Designs Rosa 20-degree Sleeping Bag (Synthetic) - $45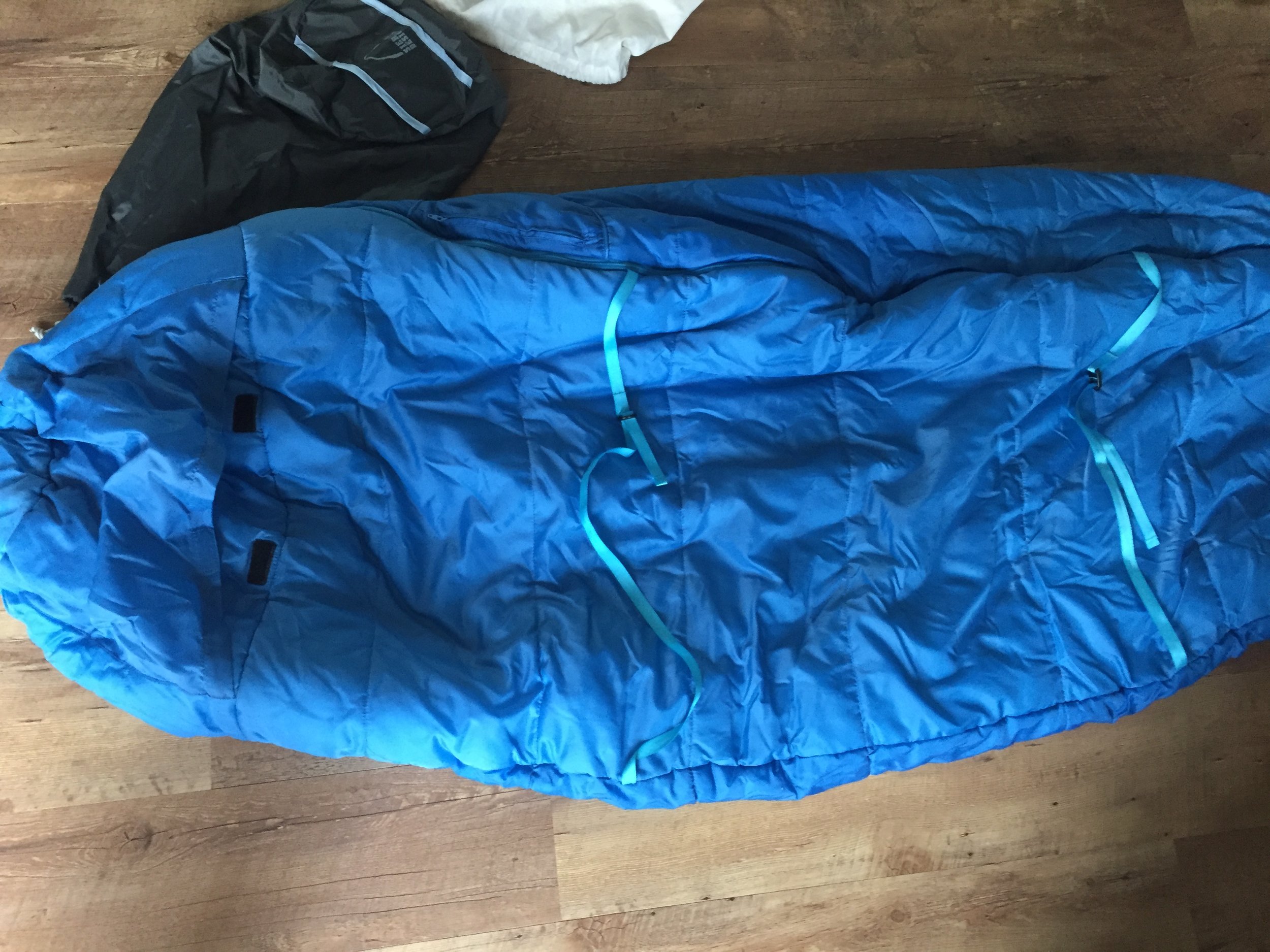 Click on the photos to scroll through them.
I used this sleeping bag a total of probably 10-15 times and don't have a use for it anymore. It's clean and in amazing shape. It comes with a stuff sack for packing in your backpack as well as a breathable cotton bag for storage. Loft is in great shape. It has a small pocket near the top of the bag for earplugs or headphones. It also has a pocket in the back to stuff clothing to make a pillow. It won't slip from your sleeping bag thanks to the straps on the back of the pad. Specs from the manufacturer are below:
The Women's Rosa 20 Degree Sleeping Bag by Sierra Designs is rated to 20 degrees F/-7 degrees C. Continuous-filament synthetic insulation provides reliable warmth for the life of a sleeping bag, even in damp conditions. We build the Rosa with Climashield HL, and wrap the whole package in 70-denier nylon for a durable bag destined for seasons of use. Rated to 20 degrees, the Rosa not only provides warmth, but serious comfort, too - an ergonomically shaped foot box won't cramp your feet and Pad Locks mean you won't roll off onto the hard ground during the night. Will be compressed for shipping.
Specifications and Features for the women's Rosa 20 Degree Sleeping Bag by Sierra Designs:
Insulation: Climashield HL
Material: Shell: 70D Nylon
Material: Liner: 75D Polyester
Trail Weight: Regular - 2 lbs 12 oz
Zipper Side: Regular - Right
Fill Weight: Regular - 24 oz
Stuff Size: Regular - 9" x 19"
Chest Pocket
Draft Tube
Ergonomic Hood
Pad Locks
Pillow Pocket
Snag Free Zipper Tracks
Two Color Options
Woman Specific Bag
Continuous Filament Insulation
Offset Layer Construction
Tricot Lined Footbox
Tuck Stitch
*SOLD*MSR Seagull 1.1 Liter Stainless Steel Pot - $10
*SOLD*MSR Seagull 0.75 Liter Stainless Steel Pot - $8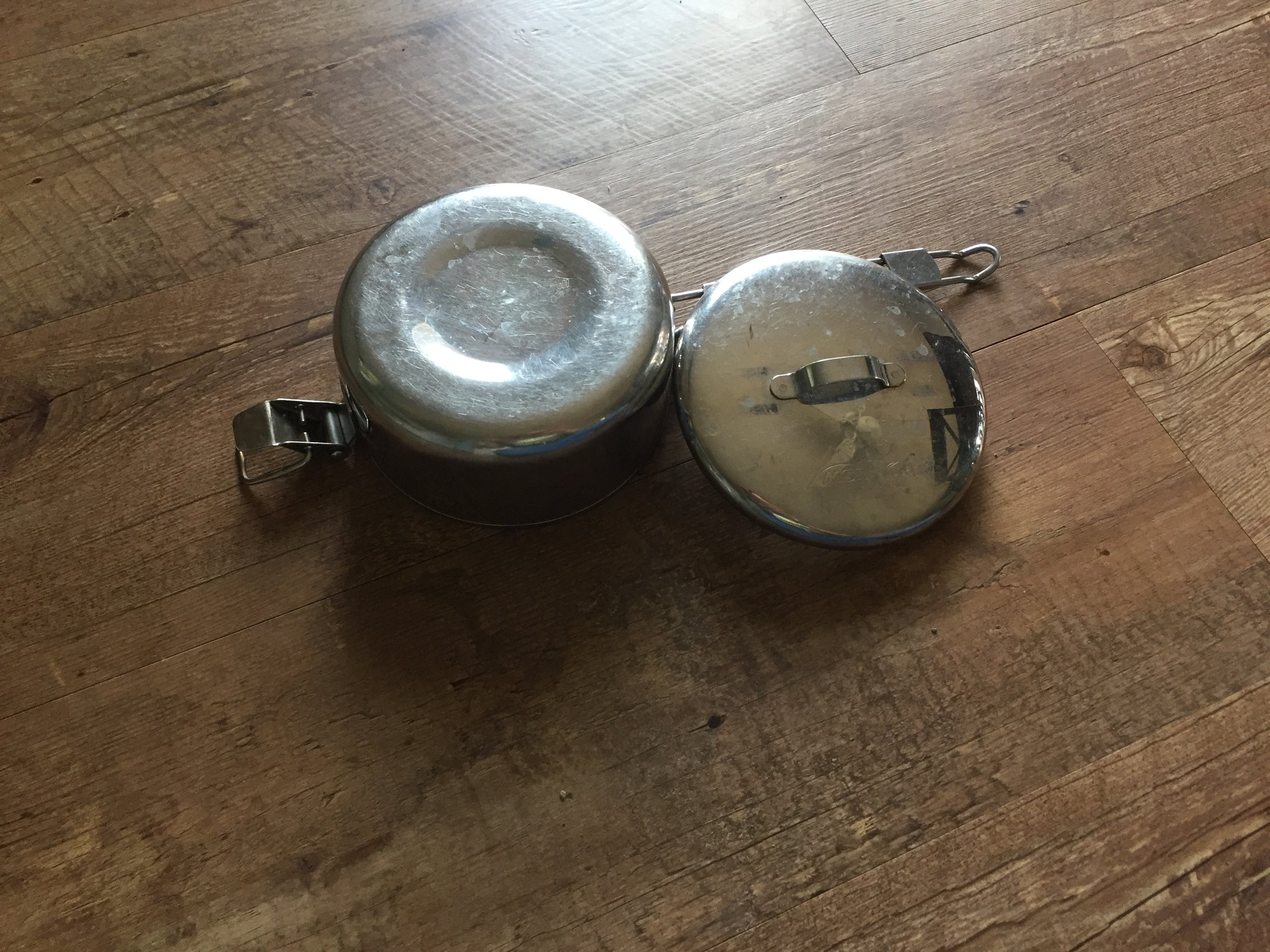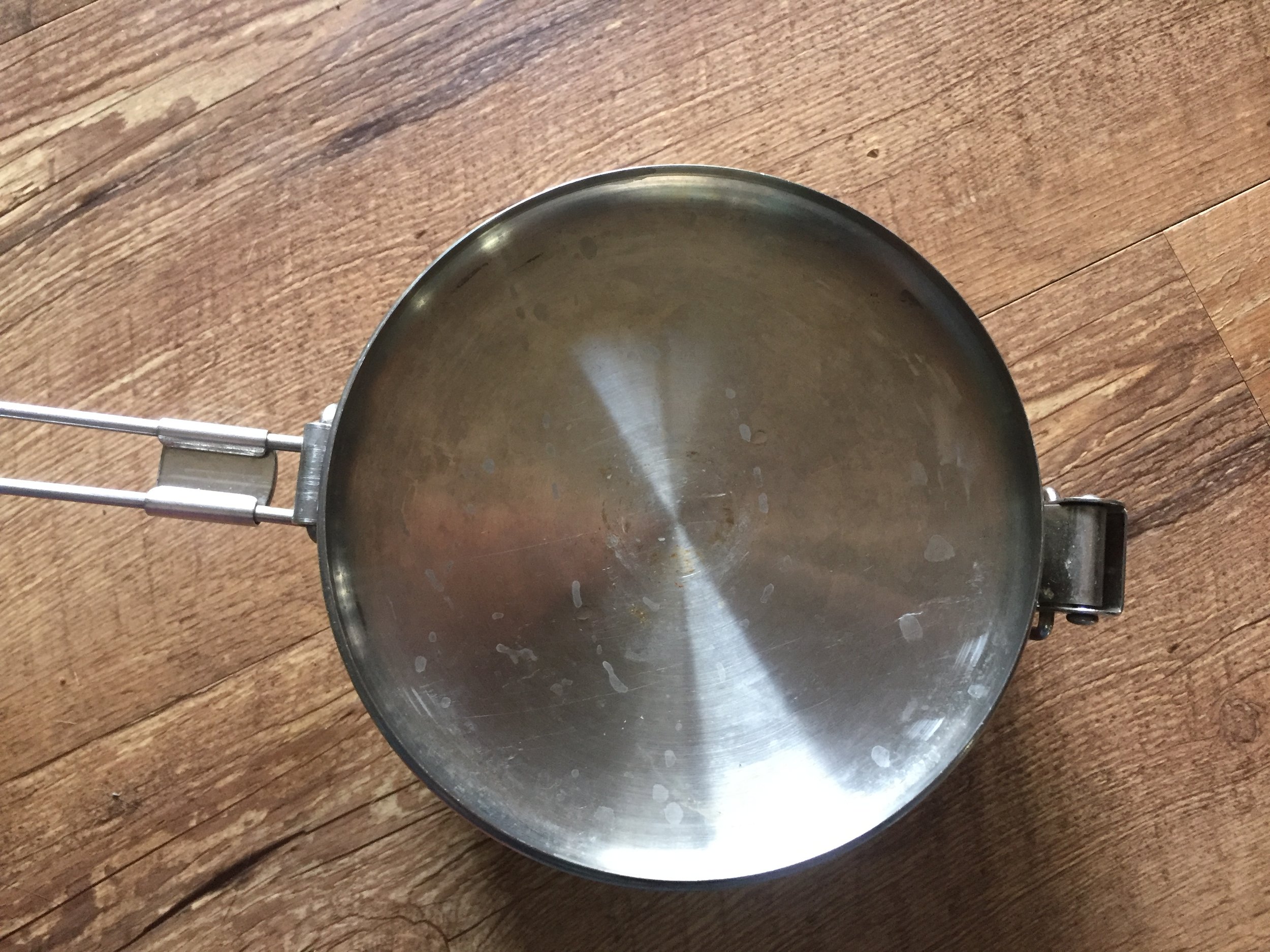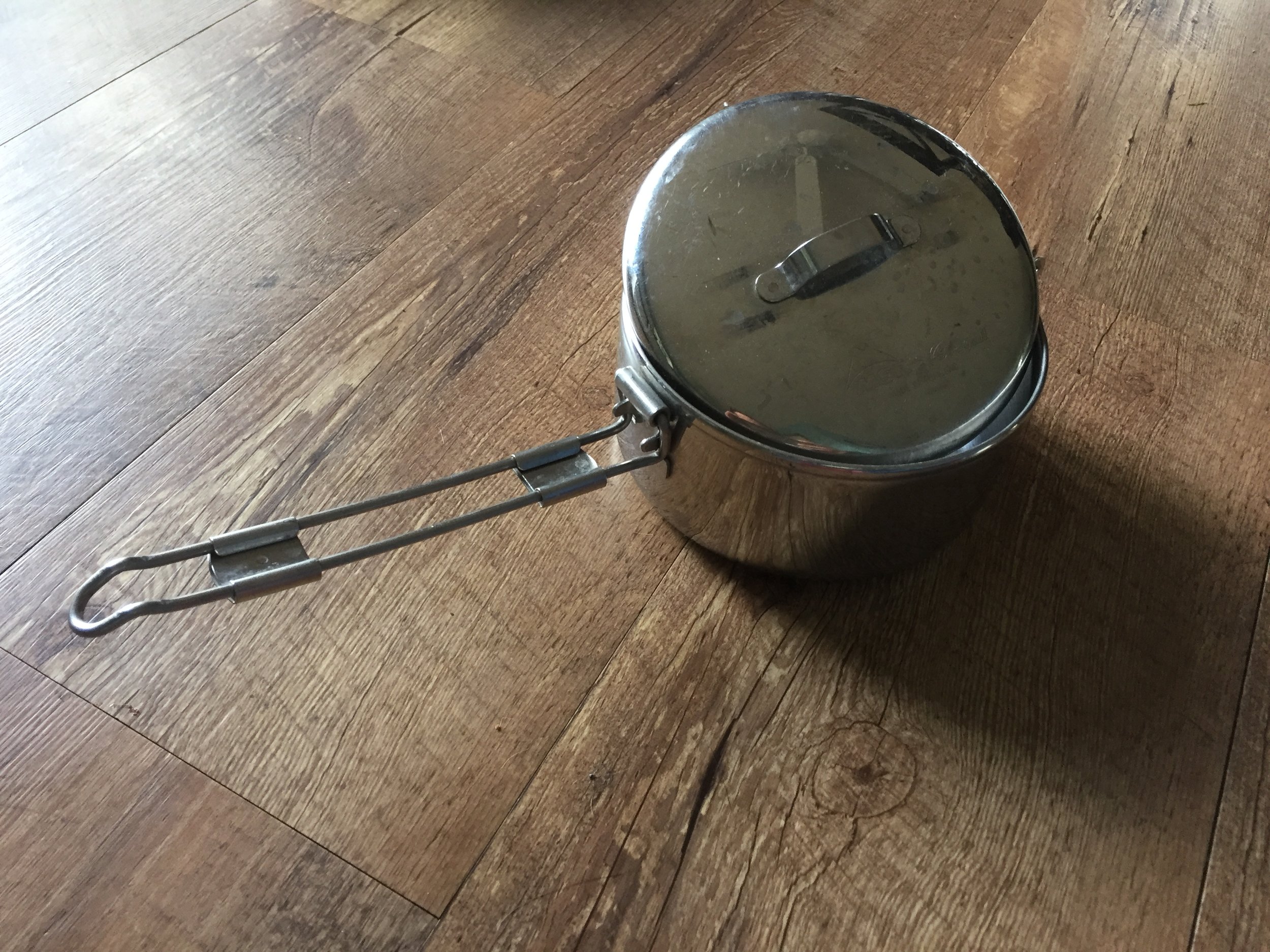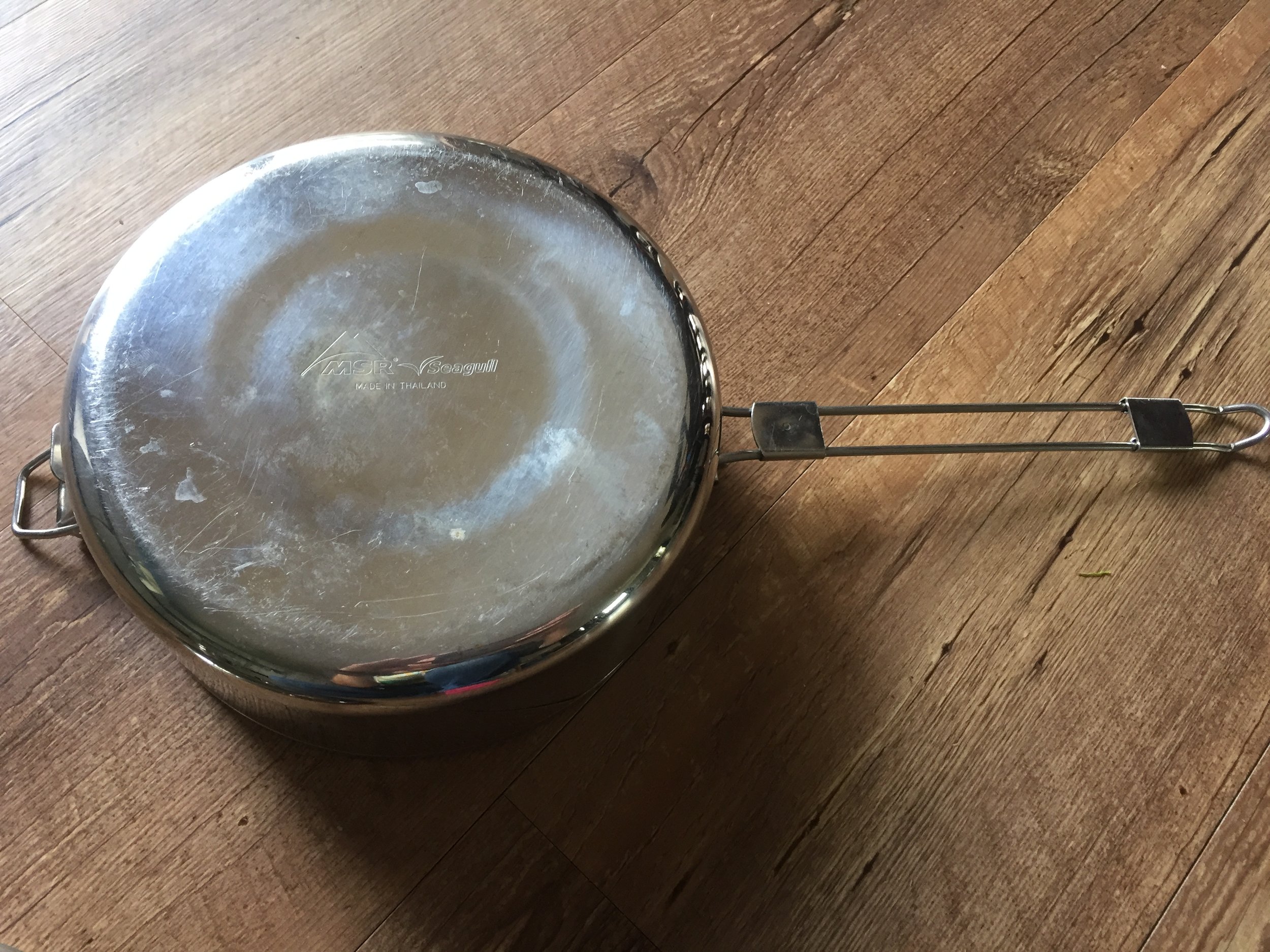 Click on the photos to scroll through them.
These pots are great and durable. Used on my AT thru hike and intermittently as car camping gear. While they're a bit heavier than aluminum, they're durable and showing no signs of wear other than minor scratching - no blackening. The 0.75 L pot does have one small spot on the inside on the bottom of the pan that can probably be scrubbed off. I'm just lazy! See manufacturer specs below:
Dual purpose handle/lid lock flips up and over the fitted lid to securely lock the lid in place during transport
Fitted lid with a top handle
Scratch and dent resistant stainless steel stands up in the most rugged conditions
Rounded corners help heat travel up sides of pot more quickly, boosting efficiency
1.1 L pot is 15 oz and measures 7.6 x 6.6 x 3.75 inches; holds 37 oz
0.75 L pot is 13 oz and measures 6.75 x 5.75 x 3.5 inches; holds 26 oz
*SOLD*The North Face Rock 22 Backpacking Tent WITH Footprint - $65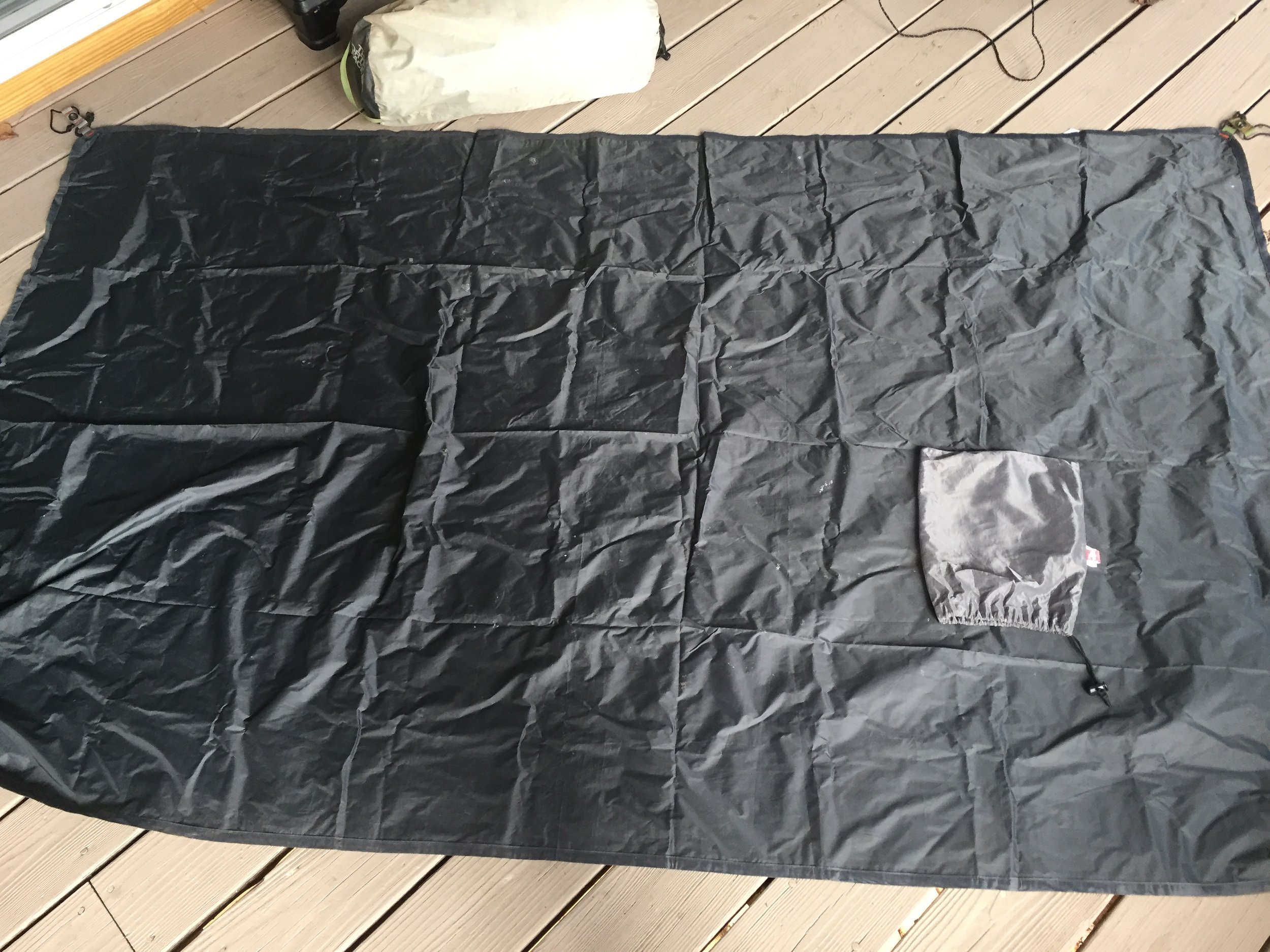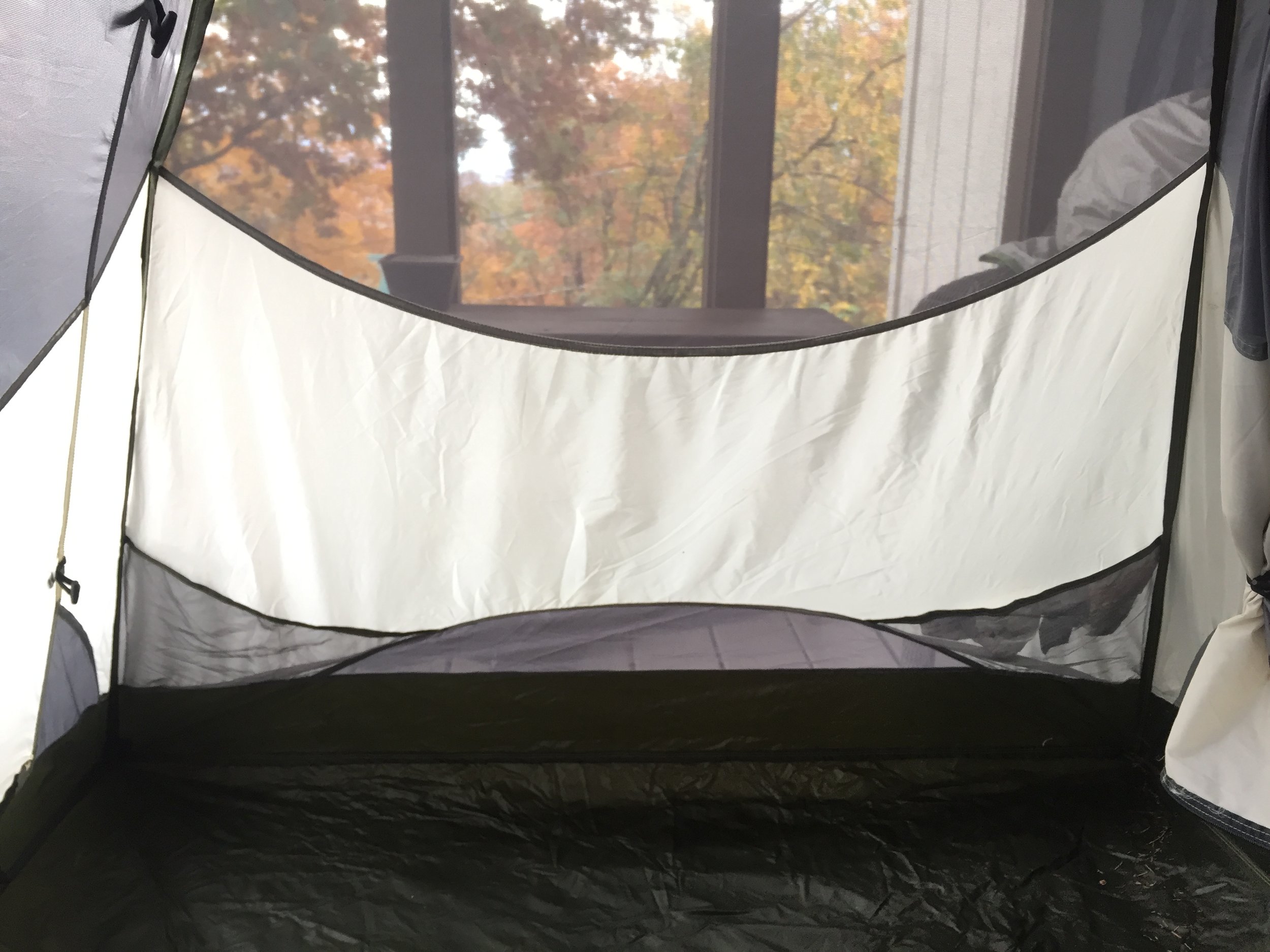 Click on the photos to scroll through them.
Taken out into the backcountry probably 20 times and it was mostly used as a car camping tent. Comes with stakes, poles, footprint, original guy lines, and all stuff sacks. Two of the stakes do have a slight bend in them from use. The tent is freestanding in design and super easy to set up with color-coded tabs/grommets for making assembly super simple and newbie-proof. Notice in the photos there is a patch in the floor and some red mud staining on one door. Other than those two things, the tent is in practically brand new condition with minimal dirt. See manufacturer specs:
Versatile two-person, freestanding design has two doors each with their own vestibule
Continuous pole sleeve construction maximizes stability through even weight and pressure distribution
DAC® aluminum poles are lightweight, strong and durable for long-lasting use
Color-coded canopy and rainfly webbing provide clear and easy pitching
Internal prayer-bound floor seams increase user space with clean angles; taped nylon taffeta floor
Four internal pockets keep small items organized
In nice weather, minimalists can leave the tent body behind and use just the rainfly, poles and footprint to save weight
Packed Size: 7 x 25 inches
Floor Dimensions: 87 x 55 inches; 33 square feet
Vestibule Area: 8 square feet per side
Peak Height: 43 inches
Packed Weight: 5 lb, 11 oz
Leki Cressida DSS Women's Trekking Poles (with packaging) - $110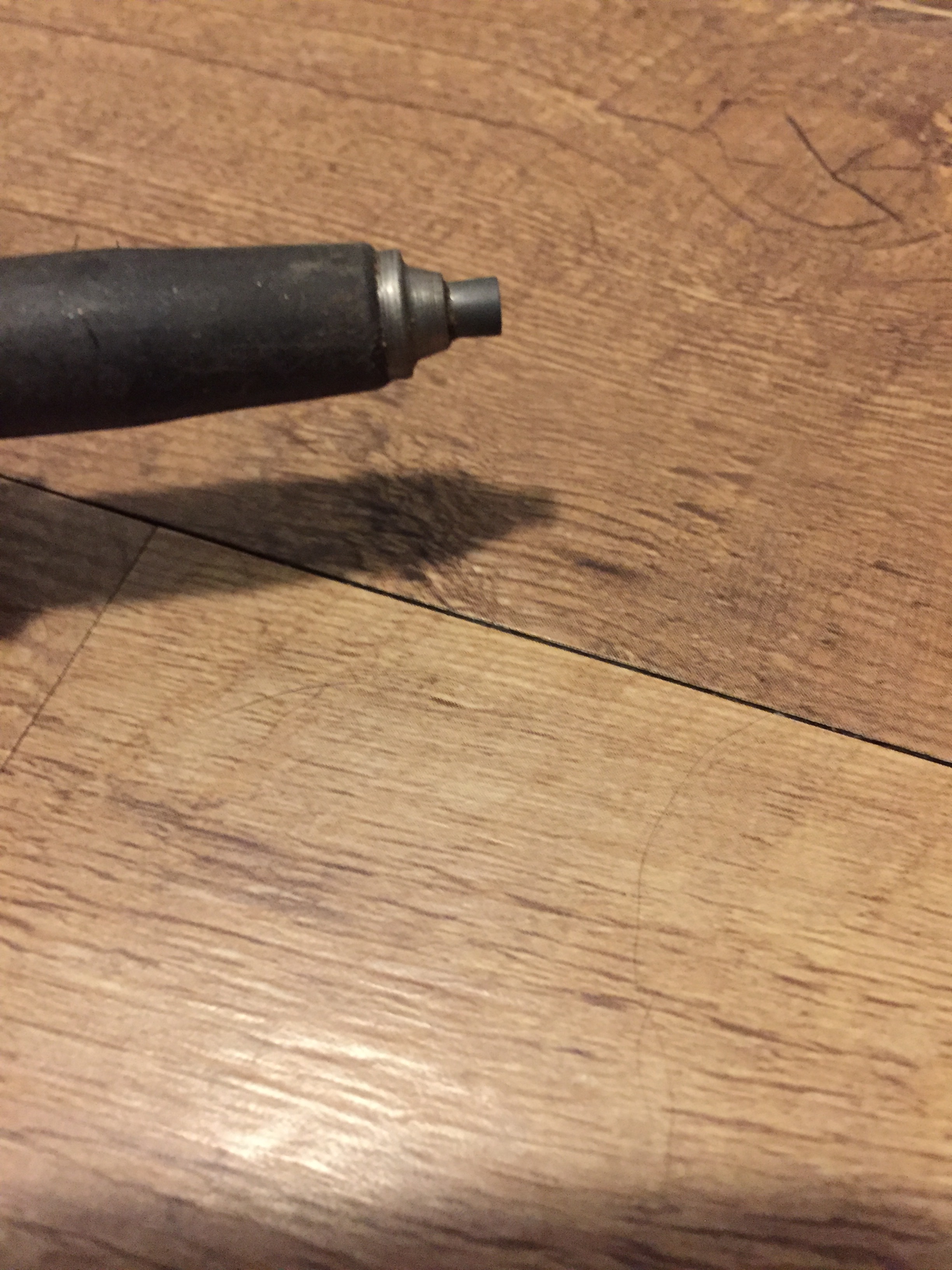 Click on the photos to scroll through them.
I bought these poles to replace some ancient ones and the quick lock system just isn't for me. I wanted badly for them to work, but I just didn't like them. These are still on the market brand new for $159. They have less than 40 miles (and some dirt) on them and come with a "free" strip of duct tape featuring kittens wearing bowties! (Ha!) See manufacturer specs below:
Dynamic suspension system (DSS) antishock technology reduces peak impacts by approximately 40% to help protect muscles, joints and ligaments
Stable and durable aluminum HTS shafts with matte clear finish feature light, strong Speedlock 2 and Super Lock systems that offer extremely fast pole-length adjustment
Short carbide flex tips with interchangeable baskets deliver precise contact and traction on nearly all kinds of terrain
Edgeless, ultralight Aergon Thermo foam grips offer a soft feel and a fit designed for a woman's hands
Short, ultralight, breathable straps offer maximum comfort with minimum weight and bulk
For more info, you can see this exact pole on their website: https://www.leki.com/us/trekking/poles/2771/cressida-dss/?c=708
Deuter ACT Lite 28 SL (Women's specific) Day Pack with Cover - $50
Click on the photos to scroll through them.
This pack has been used as my guiding daypack for one year. It never did fit me right, but I never had time during the season to replace it. I have a 15-inch torso and the frame hits me in the back of the head, that's the only reason I'm selling it. This pack would fit anyone with a 16 inch torso or longer. The pack is dirty, not gonna lie. I haven't taken the time to try and clean it up, which is why I'm letting it go cheap. It comes with a built in rain cover with it's own pocket at the bottom of the pack. Also, the front zipper pocket has a tear, which I repaired with tape. See manufacturer specs below:
Anatomically shaped, women-specific Airmesh harness provides maximum ventilation and weight savings while load adjuster straps reduce bulk and ensure proper carrying comfort
Compatible with a 3-liter hydration reservior
2-way front zipper allows direct access to the main compartment for easier gear retrieval even while the lid is closed
Thin, mesh hipbelt fins enhance breathability and weight savings and easily stow flat when not needed
Lid pocket; internal pocket; valuables pocket on hipbelt; side zippered and mesh pockets; ice axe and trekking pole loops
Holds 28 Liters
Weight: 2 lb, 8 oz
Torso - 15-19 inches (Note from Sprinkles: I think 16 and up would be better)
Internal Frame with Delrin U frame
Ripstop Nylon
For more info you can see this pack on their website: http://www.deuter.com/US/us/hiking/act-trail-28-sl-3440215.html
If you have any questions about the gear you're seeing here, please feel free to reach out to me via messenger on Facebook. I'll answer any question you might have about the gear. Also, if you're looking for an overnight pack, please message me there as well. I have a few options I'd love to share with you!